First though, I'd like to tell you how much I've enjoyed reading about your favorite summertime activities on my comments for my
giveaway
. I feel even more connected to all of you because we share so many of the same favorites :)
If you haven't already done so, go and join the
giveaway
. Up for grabs is a $25 gift certificate to either Target or Amazon. Who doesn't love to shop?
Now, on to today's excitement:
I've joined up with Brenda over at
Primary Inspired
for her book study for Guided Math: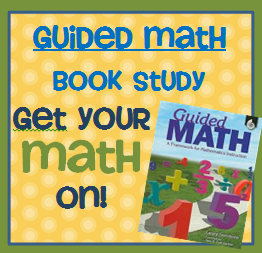 If you are new, click
here
and
here
to read all about how I incorporated Math Workstations into my classroom this past year.
I call mine Math Rotations because we "rotate" through four different stations each day. I meet with every child in a small group every single day. It has completely changed my ideas/thoughts/beliefs about teaching math.
At the end of this year, our principal approached the 4th grade (and 5th grade) teachers about departmentalizing next year. Yes! So, I will be teaching three periods of math with 90 minutes per class. I am so excited :)
I asked her to buy the book Guided Math by Laney Sammons. Funny thing is, she had already bought it for the teachers in grades 3-5 for us to use/create a book study/love next year. Score!
Everything I am reading is "justifying" what I had already started this last year. Double score!
Now, even though I've already read this book from cover to cover, I'm a little late linking up (remember all of the summertime activities...).
So, let me go back and re-cap my thoughts about Chapter 1:
This chapter titled "Guided Math: A Framework for Mathematics Instruction" explained how Guided Math is set up. I found myself nodding furiously with each paragraph. (My husband was thinking I was a little bonkers, I'm sure.)
Here are the components:
1.
A Classroom Environment of Numeracy
- Think Guided Reading. When you walk into a room where the teacher is using the literacy model, you know it. Right? The same should be true about Guided Math. (Explained more below.)
2.
Morning Math Warm-Ups
- For me, this will be where I incorporate Calendar Math (Yes, in 4th grade!). I'll explain more soon, but most of what I'm planning on doing I learned from Stephanie over at
Teaching in Room 6
.
3.
Whole-Class Instruction
- Yes, there is a time for this even with Guided Math. Using the same procedures I used last year, I will used Whole-Class instruction on the day that I introduce a new topic.
4.
Small-Group Instruction
- Ahhh! My favorite part for thousands of reasons. Just as a classroom using Guided Reading would differentiate instruction, so too can a math teacher!
5.
Math Workshop
- For me, this means my rotations.
6.
Individual Conferences
-Yes! There are times when I am finished with a small group before the next rotation, I have a few minutes to conference with individual students. I used to NEVER have time for this when I taught math "traditionally".
7.
An Ongoing System of Assessment
-For me, this is what guides my grouping of students. I found it much too difficult last year to group my students for each topic. I grouped my students based on their MAP scores, teacher judgment, classroom assessments, etc. I kept the same groups for about 4 weeks or so. They were fluid, too. If I saw that students needed to move to different groups, I moved them. Next year, I'm going to group students at the beginning of a new set of topics (between 4-5 Topics or Chapters in our book). I will use a pretest to determine these groups (but with teacher judgment in there, too).
Can it all work? Yes, yes it can.
Now, this week is the review of Chapter 2:
********************************Update*************************************
This chapter is being hosted by Dana over at
3rd Grade Gridiron
! Head on over there to read more about Chapter 2 from other fabulous bloggers.
This chapter titled "Using Guided Math to Create a Classroom Environment of Numeracy" was another head-nodding chapter indeed!
See #1 above? Well, this chapter explains it completely.
Here's how I see it. When students walk into my room next year, I want them to feel as if they can recognize that I am their math teacher. The walls should "scream" math. You know what I mean?
*
CalendarS
-Yes, multiple calendars. Why? Well, don't you have several calendars of your own for different purposes? I sure do. The same will be true for my students. Not only that, but I'm going to treat their agenda as a math tool, not simply a place to jot down homework and tests.
*
Math Word Wall
-I'm excited about this one. It is one of the projects I'm tackling soon. I'm going to align my wall to the Common Core Standards. I've already purchased the vocabulary words from Ginger at
Ginger Snaps
.
*
Manipulatives
- Hello- Remember this?
*
Small-Group Area
-I scored a wicked-cool U-shaped table at the end of the year. I'm so excited. I found some great stools at Hobby Lobby when they were 1/2 off, too.
*
Station Materials
- These materials are organized and easily accessible:
*
Charts
-These will be created with students and shown prominently around the room. (Just as you would do with reading.)
*
Math Journals
-I'm going to have my students keep two notebooks for math. One notebook is where we will complete all of our "notebooking" activities (think foldables) and complete notes and work. The other notebook will be for journaling. Yes, math can easily incorporate writing. The whole idea of "thinking mathematically" requires students to be able to communicate their reasoning. What better way to do this than in journals?
*
Math Related Literature
-Yes! I've been accumulating so many great books and can't wait to use them for the purpose of explaining math concepts.
Now that last one is where YOU come in. I'd like to create a linky party just for Math literature. Would you be interested? If so, leave me a comment below letting me know you are interested and I will create one soon if enough people are interested.
OK-There you have it. My take on Chapter 1 and Chapter 2. If you haven't linked up with Brenda at Primary Inspired, do so.