Michelle over at
The 3AM Teacher
had a brilliant brainstorm earlier this week and I decided to join her in the storm. I hope I don't have too much
wind
brain damage when all is said and done.
She thought it would be a great idea to create a story.
This is what she wrote earlier this week (taken directly from her blog...she explains it better than I can):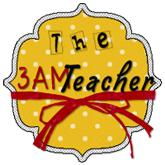 HELP!!!
I am working on a couple of great linky's. I am going to need a little help on the one. I would like to start a continuous story starter linky, called...To Be Continued... I would like to start on a topic and allow everyone to add to it for a period of time. I think it would be really funny to read (-; I am just not sure how to go about the linking up part. Should everyone just link up or should there be a list that I put together with bloggers who would like to participate and build on the story by giving each blogger on the list a turn??? Let me know your thoughts...maybe this would be something no one would like to do, but I like writing silly and crazy stories & I thought it would be fun to have a bunch of educators come up with one.
Well, I told her I'd love to link up. I'm on her list as blogger #9. I hope I can live up to the other writers that are linked up.
It's not too late for you to join me. You have until Sunday night at 5pm (Arizona time). to link up if you are interested.
Click on this beautiful badge that she created to link to the post where she explains everything in more detail.

This really sounds fun and a perfect distraction from my
E
N
O
R
M
O
U
S
TO DO list!
For all of my teacher friends who just joined me on Summer Vay-Cay...welcome.
For those of you with a few weeks left, just remember I go back in mid-August while you probably don't go back until September :(
Have a great weekend!
PS-Working on the labels that some of you have been asking about. Stay tuned.