I always love checking out everyone's Currently posts to check in with what all of my bloggy friends are up to lately.
Here's what I have going on right now:
Listening: My husband is busy making gumbo for our Super Bowl Party. He LOVES making gumbo (mainly for all of the compliments he receives) and tomorrow is his birthday. So, this is becoming a yearly tradition for us. My kids are working on papers (daughter) or being silly and bugging us (son).
Loving: Even though he may be bugging her right now, they are precious together. We are really trying to soak up every moment before she goes off to college next year. Just check out this cute picture of the two of them from dinner last night. They were having a deep sibling conversation to which we were not to be privy. They have the best relationship. I am truly blessed.
Thinking: I should really be working on my paper which is due on Tuesday. I'm currently taking one of the classes to get my ESOL endorsement. This is my first of 5 classes. Long road ahead...
Wanting: I am going to do another round of Whole30. Have you heard of it? Although my husband and I started eating healthy (mainly vegan) in 2014, we started to slip as the school year began. Last fall, I saw posts by Rachelle (
What the Teacher Wants
and
For Blogness' Sake
) about
Whole30
. I read the book,
It Starts with Food
over the winter break and completed the first round. If I'm being completely honest, I didn't really complete it because I cheated three times. When you cheat, you are supposed to start over again. So, guess that's what I'm doing starting tomorrow. I will say, though, that although I did cheat, I was able to curb my cravings for sugar. I actually prefer my coffee black now (gasp!).
Needing: I have several lists that I need to start and stick with over the next few months. Here are the needed lists:
1) NYC! I'm taking my daughter to New York City for Spring Break! We are super excited! Do you have some must-do ideas for us?
2) Project Graduation---so much to do, and so little time
3) College Ready
4) Project Dining Room- I'm slowly renovating my living room. I bought this BEA-U-TI-FUL buffet on Friday that I am going to refinish:
I'm going to use
Annie Sloan's Chalk Paint
to hopefully get a look similar to this one found over at
Perfectly Imperfect
: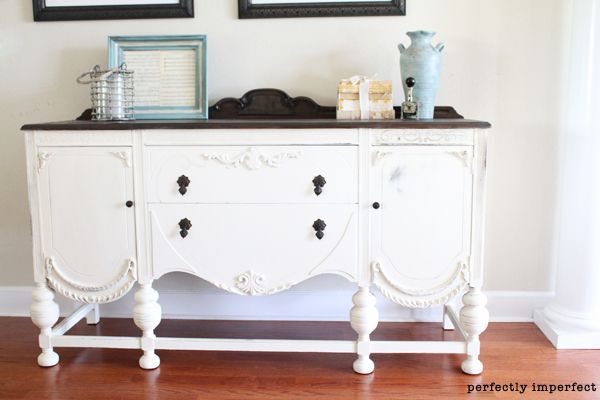 So what have you been up to Currently?