So, I've been on a little hiatus for a few weeks. For those of you who have hung around, I thank you. With that in mind, I wanted to link up with this cute thankful linky that I've seen around in blog land. I thought it would be a great way to ease my way back into this wonderful world of blogging that I've missed for a few weeks.
This linky comes from the fabulous Lyndsey over at A Year of May Firsts. I've chatted with her before, but somehow I haven't clicked the "Follow" button on her blog. How does that happen?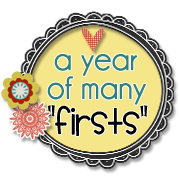 There are so many wonderful things to be thankful for. Of course, I am so utterly grateful for my family. My husband truly rocks, people.
(More on this cruise in a day or two...I'm so excited to tell you. I'm even more excited that so many of you have asked me to share.)
Next, I'm truly thankful for my beautiful, giving, compassionate and supportive parents.
My children are my heart and I'm so thankful that they are great kids. I'm really a lucky momma. Here they are goofing off...I love the fact that they get along and love each other. (Remind me I said that in a few years, OK?)
I know I've said it before, but it's worth mentioning again. Blogging has inspired me to be a better teacher. Reading all of the fabulous blogs that I follow, teaching with a blogging perspective (you know what I mean...if it's not blog worthy, it's not worthy), and creating products for Teachers Pay Teachers has completely rejuvenated my career. For that I am most humbly grateful.
Have a blessed Thanksgiving Holiday Weekend!